Web Hosting

Although most of the hosting that we provide is for our own clients' web sites we do offer a hosting service. Choose between Linux, Windows or dedicated servers, all of which are hosted in the UK.
We have found that having several different platforms we can accomodate many different needs. Knowledge of TCP/IP and security is important and we are constantly learning new processes and methods.
Cost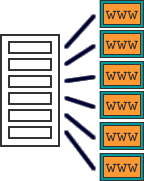 Hosting £100 per year
This includes hosting for one year, telephone support throughout the year and the setting up of unlimited standard mail acounts (100 megabytes). If we have designed the websire then depending on the complexity of the site this may include small updates during the year. We offer a choice of Windows and Linux servers and Linux dedicated servers. Although we mostly offer this service for clients' website we do provide it for people who wish to design their own sites.
Advanced Mailboxes £20 per year
For added functionality such as SPAM filtering, 'white' and 'black' lists and roaming SMTP with a 1 gigabyte capacity we offer an advanced mailbox.